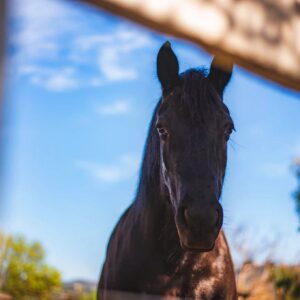 When was the last time you stopped and allowed yourself to enter a space of pure relaxation, where time stops, and you have absolutely no agenda or commitments? When our plate is full and time lapses at such a rapid pace, our ability to create (and think freely) is impeded. When we are stretched and overwhelmed, our creative mind—our heart—stops. Thus, our inherent creative output begins to wane in our ever-demanding, multi-task-dependent, "do more" culture. This incessant pattern inevitably causes fatigue, lack of concentration, and in some cases, illness.
Where does one go to seek much-needed solitude? You simply remove yourself from this frenetic pace and disconnect by leaving all modern-day conveniences and technology behind. Find a park bench, a secluded place near the ocean, a forest, perhaps a mountain top. Define what works best for you and your mental composure.
Horses exemplify an optimum state of tranquility; they can help us accelerate the power of relaxation. When we share space with the horses, we become synced to their energy and spirit. Horses are powerful at shifting our energy flow when we share space with them. We begin to learn how to relax at a cellular level. We breathe deeper, feeling more connected and grounded to the earth. This is truly medicine for the soul.
At Art Soul and Horses, we see examples of this energy shift regularly through our coaching sessions. There is this beautiful exchange between the horse and human hearts. Here, the authentic voice begins to emerge, and our dreams take flight.
In Joy and Healing, Vivian, Luca and Skye Mama