Services Offered at Art Soul and Horses
We offer private coaching, drop in groups, workshops and other events. Re-connect with yourself and discover your power!
No horse experience is required to work with the horses, and we will not be riding them. Remember to wear closed-toe shoes (preferably boots) and bring a hat, sunscreen and a water bottle so you can stay comfortable and hydrated.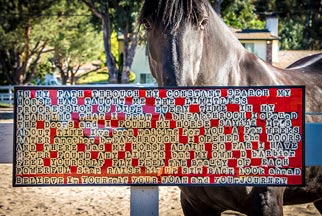 Vision Art One Day Workshop with Horses
Tapping into your creative heart
1-Day Workshop
10 AM - 4 PM
Take some time out from looking after others to give yourself some tender, loving care. Through art, you will learn that we each hold the key to be a master manifester and architect of our future self. Unplug and spend an entire day creating art and being with the horses. Let them help you learn to relax and to connect with that part of yourself that you have left behind. Rediscover your heart's wishes, dreams and visions for your future. In this loving, sacred space, you will be amazed at the energy, ideas and images that will flow through you and into your art piece or vision board.
Invest just $175 per person. Materials and lunch included. Please see our cancellation policy.*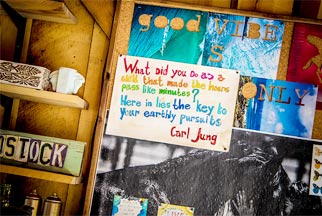 One Day Soul Touch Art Workshop
We will be following the method of Touch Drawing created by Deborah Koff-Chapin.  In this process you will paint with your hands to create soul-inspired works of art or vision boards to inspire you. This is not just finger painting for adults! Deborah describes it best: "The hands are extensions of the soul, moving in response to the sensations of the moment. Channels of expression open, enabling feelings to flow. A series of drawings is created, each a stepping stone deeper into the self…. This act of creation unleashes vibrant healing forces that guide the psyche toward wholeness. Even an unconfident artist can experience the fulfillment of seeing their interior life come alive on paper."
Invest just $150 per person. Materials and lunch included. Please see our cancellation policy.*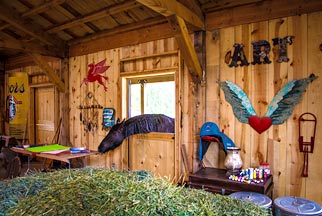 Vision Art Two Day Workshop with Horses
Tapping into your creative heart
2-Day Workshop
1-Day Workshop
10 AM - 4 PM Each Day
Supercharge your creative self! This 2-day workshop allows you to enjoy a more in-depth exploration of art with horses, while individually exploring your personal vision for a more balanced life. Learn some key tools and create powerful vision boards to create new pathways to self-love and self-care that will support and ignite more passion in all facets of your life. The horses and I will guide your exploration and self-discovery, as you experience healing and creative expansion.
Investment is $250 per person for a large group (10 maximum), or $395 per person for a small group (5 maximum). Teams and other intact groups catered to. Materials and lunch included. Please see our cancellation policy.*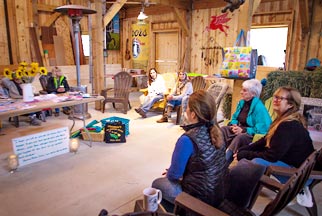 Sacred Community Circle for Nurses
Join our monthly drop-in group where we will explore the breadth of self-care options available to nurses. The horses will join us to provide guidance and their own unique brand of energetic support. Topics will be announced monthly.
View all the details
.
Investment is $10 for licensed practitioners and $5 for nursing students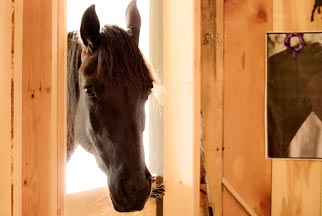 Private Coaching Sessions
Individuals
Take what you have learned with your vision work and dive deeper in a confidential, custom experience with myself and the horses. We will explore what is holding you back, clear blockages and tap into the essence of your true soul's purpose.
Private 2 hour sessions at the ranch run $295
Phone coaching also available – book a series of 3 sessions for $395 (30 min. sessions)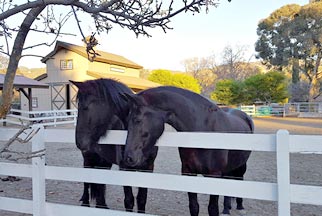 Live At SKYE MAMA's
Live Concerts in the Barn
Come join us for the evening in the pasture. Drop in jam sessions and house concerts. Check our
Events Calendar
for list of events.
"Gentle yet powerful, intuitive, playful, honest, safe and thorough.  This is how I feel about the sessions I did with Vivian and her horses Luca and Skye Mama.  
After a mini session during The Intuitive Art Workshop with Horses, the shift that happened was so exciting and life changing for me.  So when something else came up to be cleared, healed and released, I knew that I wanted to do a session again with Vivian and the horses. I trust them completely. 
There is so much ease and grace to this process. The results are transformative. I thank you with so much peace and joy in my heart"
S. in Carlsbad 
"Vivian, your presence and awareness touched my heart. Your ability to listen and hold space to allow the healing to happen. There is just a deep sense of safety with you"
Kirstin J 3.25.2017
Prescott AZ
"Vivian has a natural ability to create very safe, grounded space for her clients, whether in a group setting or one on one.
Her coaching is powerful, sensitive, kind and focused. Combined with her insight and intuition, she guides her clients to a healing, loving, sense of closure on the work they have come to do that day. Her own authentic, creative, artistic nature is an inspiration to anyone wanting to explore and enjoy that part of themselves. It is a joy and privilege to know her and work with her."
Chris C. 3.25.2017
Carbondale, CO
"Vivian's kindness and compassion shines through in every aspect of her coaching. She holds space extremely well and is able to accommodate her client's needs with her flexibility and her strength."
Y. Ow 3.26.2017
Singapore

Art Soul And Horses On The Road
I will be traveling across the county to host workshops for nurses to experience the power of horses and art. Keep an eye on our calendar for a location near you.